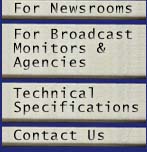 Technical Description
CCapture provides an effortless method to simultaneously decode and record multiple channels of closed caption and EDS data transmitted on Field 1/Field 2 of Line 21. A simple user interface permits advance scheduling of unattended recordings on up to four broadcast or cable programs concurrently. Recorded data is stored on the local PC hard disk and/or sent in ANPA wire format to any newsroom automation system.
CCapture is a valuable tool for creating transcripts of competitive newscasts, court proceedings, presidential speeches, network affiliate newsfeeds, and any other captioned news programs of interest. CCapture is also useful for recording and posting your own programming to your station's World Wide Web site.
Software
An easy-to-use Scheduler allows you to create and save time-of-day schedules for up to 400 programs per day. CCapture automatically starts and stops the recording of four channels at your command, 24-hours per day. Quickly add or delete scheduled items at a moment's notice. Instantly begin recording the captioning of breaking news stories. All data is clearly identified and automatically time-stamped. Archive and search recorded data for reference and background information.
(Available for Windows® 3.1, Windows® 95 and Windows NT®)
Hardware
Modular, PC-compatible circuit board, includes 1-4 simultaneous channels of closed caption decoding. Designed to emulate a single DOS COM port, CCapture is guaranteed to be compatible in virtually any PC or newsroom environment. No special hardware is required. Each board includes its own splitter/amplifier, on-board TV tuners, and closed caption decoders for each channel. Standard configuration includes one RF video input and two baseband inputs for internally routed video. In addition, video and audio output monitoring is provided for ease of use and channel verification.
System Requirements
Minimum Requirements:

IBM-compatible 386, running Windows® 3.1 with 4 MB RAM*
IBM-compatible 486, running Windows® 95 with 8 MB RAM*
Sufficient hard disk space for intended use
One full-sized slot in the PC
(*RAM requirements may vary, depending on individual use)
Specifications
RF Input

Impedance: Single 75 ohm input, amplified and split on
board. Tuners support broadcast channels 2-69, plus cable
channels 1-125 of HRC, IRC, and STD cable bands
(55.25 MHz to 810.25 MHz).




Audio Monitor Output

A/C Impedance: 600 ohm
Output Level: 250mV (Line Level)




Baseband Video 2 Input

Standard 1 Volt p-p baseband video, 75 ohm termination




Baseband Video 1 Input

Standard 1 Volt p-p baseband video, 75 ohm termination




Video Monitor Output

Standard 1 Volt p-p baseband video, 75 ohm source
terminated




Serial Port

Output configured as DTE,
Signal Ground - Pin 5
Transmit Date - Pin 3




CCapture I/O Panel Description
I/O
Connector Provided
Requires
RF Input
3/8" Threaded Female "F" Connector
Male "F" Connector
Audio Monitor Out
3.5 mm Audio Jack (female)
3.5 mm Audio Plug (male)
Baseband Video 2
Silver RCA Phono Jack (female)
RCA Phono Plug (male)
Baseband Video 1
Silver RCA Phono Jack (female)
RCA Phono Plug (male)
Video Monitor Out
Gold RCA Phono Jack (female)
RCA Phono Plug (male)
Serial Port
Male DB-9 (DTE)
Female DB-9
Options
1, 2 and 3 channel configurations
Four channels of audio/video output
Additional RF inputs for multiple cable bands
Additional baseband video inputs for satellite/VCR feeds

For Newsrooms || For Broadcast Monitors & Agencies || Contact Us
Technical Specifications || Home
©1998-99 Postech